Attracting the Youth to Agribusiness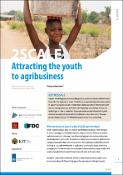 Abstract
This document explores the importance of engaging youth in the agribusiness sector and presents examples of how 2SCALE, a consortium focused on inclusive agribusiness partnerships, addressed youth inclusion in its initiatives. Recognizing the need to make agriculture attractive and remunerative, 2SCALE emphasizes providing youth access to land, finance, and modern technologies. The document highlights youth challenges in the agricultural sector, such as limited resource access and under-employment. It stresses the need to tailor approaches to suit young individuals' diverse needs, ambitions, and resources. The document discusses the efforts made by 2SCALE partnerships in various countries, including Benin, Ethiopia, Kenya, Mali, and Nigeria, to enhance youth participation in agricultural value chains. It sheds light on the role of financial institutions in supporting youth entrepreneurs by providing tailor-made loans and reducing collateral requirements. Additionally, it explores the issue of land access and the complexities of addressing land tenure challenges. Furthermore, the document explores opportunities beyond farming for youth in agribusiness, such as specialized service provision along the value chain. It showcases examples of young people offering services like pesticide spraying, tractor rental, and quality control management, improving value chain efficiency, and providing income alternatives to casual labor. The document also mentions micro-franchise models and off-farm activities as potential avenues for youth engagement in the sector.
Keywords
Agricultural value chains
,
Partnerships
,
Agribusiness
,
Gender Equity
Citation
Ogunsanmi, T. 2017. "Attracting the Youth to Agribusiness," Paper presented at Inclusive Business Conference, Utrecht, The Netherlands, by BoPInc., ICRA and IFDC, Royal Tropical Institute (KIT) (Ed.), http://2scale.org/wp-content/ uploads/2017/12/2SCALE_paper13.pdf.
Collections