Gender Mainstreaming in Agribusiness Partnerships: Insights from 2SCALE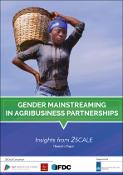 Abstract
Inclusive agribusinesses are crucial for feeding the growing global population, creating job opportunities, and improving livelihoods, especially for marginalized individuals. An inclusive agribusiness incorporates low-income and disempowered individuals into core operations, benefiting the business and the individuals affected. These individuals can take various roles in agricultural value chains, such as farmers, processors, workers, distributors, and consumers, regardless of their gender, age, or location. The 2SCALE program, a five-year initiative in sub-Saharan Africa, is one of the largest incubators of inclusive agribusinesses. It aims to enhance food and nutrition security through private-public partnerships that promote inclusive business practices. The program focuses on strengthening the capacity of smallholder farmers and rural enterprises to improve competitiveness and overcome barriers to market integration, following the Competitive Agricultural Systems and Enterprises (CASE) approach. As an incubator of inclusive agribusinesses, 2SCALE recognizes the importance of integrating and empowering women in agribusiness clusters and value chains. This approach is justified by women's significant role in the labor force of agricultural value chains and as key drivers of food markets. Additionally, women's untapped skills and potential can strengthen value chains. The program promotes gender equality and women's empowerment, aligning with Sustainable Development Goal. However, the program faces challenges in implementing proactive gender mainstreaming practices. Ensuring buy-in from field partners and the entire 2SCALE team, organizing capacity-building activities, selecting appropriate facilitation tools, expanding gender mainstreaming to a larger number of communities, addressing the youth dimension, and reporting achievements and lessons learned are among the key challenges. This document explores gender mainstreaming in agricultural value chains within the 2SCALE program. It discusses key concepts, the program's approach, and methodology for gender mainstreaming, provides examples of gender mainstreaming in agribusiness clusters and value chains, and offers recommendations for scaling up women and youth inclusion in agricultural value chains. It also highlights the changing face of farmers, gender-specific constraints faced by women, the role of youth in agricultural value chains, and the constraints specific to women and youth that hinder the performance of agribusiness clusters and value chains. By addressing these challenges and implementing gender mainstreaming practices, the 2SCALE program aims to harness the potential of women and youth, improve their livelihoods, and contribute to sustainable and inclusive agricultural development.
Keywords
Agribusiness
,
Partnerships
,
Gender Equity
Citation
Terrillon, J., and R. Vogelsperger. 2017. Gender Mainstreaming in Agribusiness Partnerships: Insights from 2SCALE, Thematic Paper.
Terrillon, J., and R. Vogelsperger. 2017. Gender Mainstreaming in Agribusiness Partnerships: Insights from 2SCALE, Thematic Paper.
Collections