Building Inclusive Agribusiness: Going One Step Down the Ladder Makes a Difference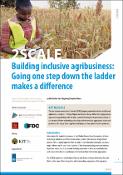 Abstract
This report explores the advantages of partnering with intermediate trading and processing companies, specifically Psaltry in Nigeria and Shalem in Kenya, for inclusive agribusiness development. While interventions for market inclusiveness often focus on large industrial-scale firms or end users, the experiences with Psaltry and Shalem demonstrate the efficiency of collaborating with locally based intermediaries. These companies effectively facilitate collaboration between large off-takers (such as breweries) and smallholder farmers, leading to inclusive agribusiness outcomes. The involvement of large industrial end-users is crucial as they provide a stable bulk market and purchasing power, driving the supply chain and benefiting many smallholder farmers. The commitment of these large buyers to inclusive agribusiness can stimulate value chain innovation. For example, Nigerian Breweries supported Psaltry in upgrading its processing facility to increase local sourcing, expanding opportunities for cassava producers. Psaltry, a cassava trader and processor, established partnerships with smallholder farmers through a 2SCALE-facilitated public-private partnership—the collaboration aimed to improve the efficiency and inclusiveness of the cassava supply chain for Nigerian Breweries. Shalem, an aggregator of sorghum and other products, faced challenges regarding sourcing reliability and fair value for growers. The 2SCALE intervention supported capacity strengthening, improved supply chain management, and enhanced both Psaltry and Shalem farm-level efficiency. The interventions resulted in significant improvements, such as increased yields, reduced production costs for Psaltry, and improved productivity for Shalem. Both companies experienced positive impacts on their out-grower schemes, supplier relationships, and market competitiveness. Additionally, interventions addressed challenges faced by transporters, village agents, and other actors in the value chain. Lessons learned from these partnerships emphasize the advantages of working with intermediate trading and processing companies. The proximity of these companies to smallholder farmers allows for effective collaboration and responsiveness to local needs. Closeness to the grassroots enables better supply chain management, improved farm-level efficiency, negotiation of favorable business terms, and the development of loyalty programs. These findings highlight the potential of inclusive agribusiness development through partnerships with intermediaries.
Keywords
Smallholder farmers
,
Value chains
,
Agribusiness
,
Public-Private Partnerships
Citation
Chabari, J., and O.S. Idowu. 2017. "Building Inclusive Agribusiness: Going One Step Down the Ladder Makes a Difference," Paper presented at Inclusive Business Conference, Utrecht, The Netherlands, by BoPInc., ICRA and IFDC, Royal Tropical Institute (KIT) (Ed.).
Collections