Methodology to Assess the Impact of Fertilizer Strategies on Planetary Boundaries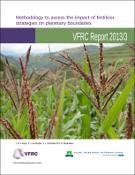 Abstract
Fertilizers affect plant growth fundamentally and are essential to feed the world's population. Yet, fertilizer use also causes eutrophication and greenhouse gas emissions Overuse will aggravate these side effects, but underuse leads to the agro-ecosystem's degradation, poverty and hunger. Nitrogen and phosphorus fertilizers have been identified as one of the driving forces that push the Earth from its stable geological era of the Holocene into the Anthropocene with unknown implications for life on Earth. Curtailing nutrient losses will have far-reaching implications on the Earth's ecosystem and human health and well-being. This report describes a methodology to quantitatively link global N and P cycles to four other global change drivers: land-system change, freshwater use, climate change and stratospheric ozone depletion. This will allow the assessment of the impact of fertilizer interventions on these drivers revealing synergies and trade-offs concerning food security and the environment.
Keywords
Nitrogen fertilizers
,
Phosphorus
,
Planetary boundary layer
Citation
J.G. Conijn, F.J. de Ruijter, J.J. Schröder and Prem S. Bindraban. 2013. Methodology to assess the impact of fertilizer strategies on planetary boundaries. VFRC Report 2013/3. Virtual Fertilizer Research Center, Washington, D.C. 21 pp.; 1 table; 3 figs.; 42 ref.
Collections