Gender-Responsive Approach to Integrated Soil Fertility Management in Nepal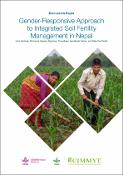 Files
Abstract
Integrated Soil Fertility Management (ISFM) is a set of practices that includes the integration of fertilizer, organic inputs, and improved crop varieties, together with the knowledge, decisionmaking, and adaptative capacities of farmers. The adoption and associated gain derived from ISFM can be enhanced if it is implemented in inclusive and gender-responsive ways. This discussion paper sheds light on how women and socially marginalized populations can benefit from ISFM, using case studies from Nepal, and suggests a gender-responsive ISFM framework for broader applicability.
Keywords
Integrated Soil Fertility Management
,
Gender
,
Fertilizers
,
Inclusion
Citation
Gartaula, H., Gautam, S., Choudhary, D., Gaihre, Y.K., and Pandit, N.R. (2022). Gender-Responsive Approach to Integrated Soil Fertility Management in Nepal. Discussion Paper. El Batan, Texcoco, Mexico: International Maize and Wheat Improvement Center, CIMMYT. 16 Pages.
Collections